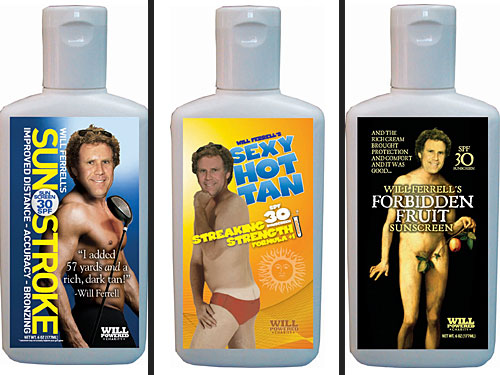 Looking for that perfect Father's Day gift for your dad?
Lucky for you,
Will Farrell
has come out with his own sunscreen line called Will Farrell Sunscreen.
The
Anchorman
star's SPF 30 comes in "Sun Stroke," "Sexy Hot Tan," and "Forbidden Fruit," and features Farrell in some provocative poses on the bottle.
Each lotion costs $12, with all proceeds going to Cancer For College Willpowered Scholarship Fund, which grants college scholarships to cancer survivors and amputees.
"I've always dreamed of owning a lotion company. And I've always hated cancer,"
said
Farrell.
You can purchase Will Farrell Sunscreen on the
charity's website
,
eBay.com
, or
Amazon.com
.