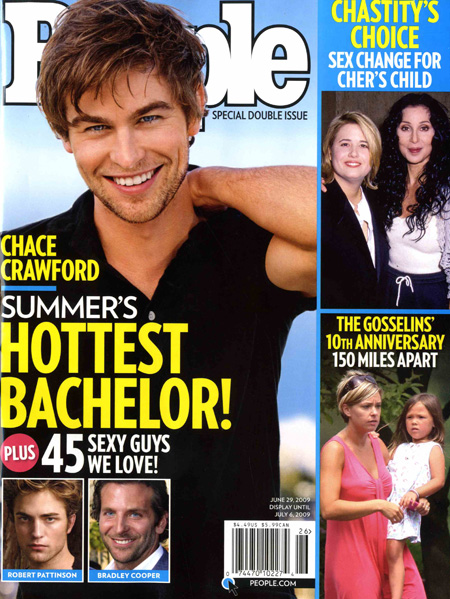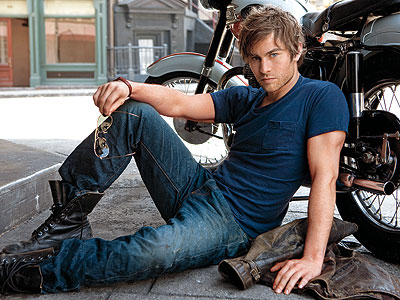 Gossip Girl
's
Chace Crawford
has been crowned
People
magazine's Hottest Bachelor.
The 23-year-old, who just landed the lead role in the
Footloose
movie remake, revealed to the magazine that he talks to his parents everyday, vacations with his younger sister, and considers dating a married woman a "definite no," unlike his
GG
character.
He also shared the following:
On his first kiss:
"It was fifth grade. Her name was Kiley Smith and she was my best friend's twin sister. It was one of those super-awkward things. We were at camp, on a lake, really picturesque – it's kind of seared into memory! We're still friends."
On a perfect date:
"All you need is a pool table, beer, an electric jukebox and good conversation. The day a girl beats me in a game of Beirut [a kind of beer pong] is a good sign!"
On dating Carrie Underwood:
"I have nothing bad to say about that experience. It was awesome. I just didn't know how to deal with it. I learned a ton about dating someone in that kind of spotlight. It was such a whirlwind, but no regrets."
The Top 10 Bachelor's on the list include:
2 — Chris Pine
3 — Shia LaBeouf
4 — Adam Lambert
5 — 90210's Ryan Eggold & Twilight's Kellan Lutz
6 — Dwayne Johnson (The Rock)
7 — Brody Jenner
8 — Common
9 — Taylor Kitsch
10 — Robert Pattinson
Click
here
to see
People
's slideshow of it's Hottest Bachelors of 2009.