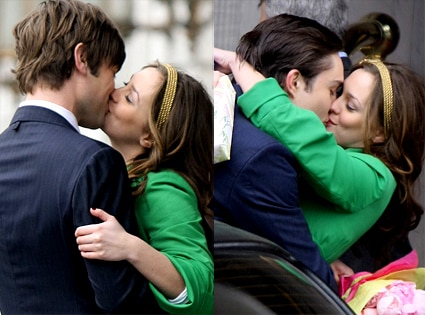 Blair and Chuck kissing in a tree...or is it Blair and Nate?
Gossip Girl
star
Leighton Meester
was spotted kissing co-stars
Chace Crawford
(a.k.a. Nate Archibald) AND
Ed Westwick
(Chuck Bass)...wearing the same outfit! Not likely for Blair Wardolf to wear the same outfit twice...
For those of you who don't know, Chuck and Nate are best friends, and they both have been romantically involved with Blair...
So does this mean she hooks up with both boys in the same episode?
An inside source told
E! Online
, "If she was in the same outfit, it was probably to throw off the photogs. But she does kiss both [Nate and Chuck] at some point in the last couple of episodes."
GG
producer
Josh Schwartz
says that the love triangle will be a "big part of the storyline."
"It's graduation, so it's all about what is the future for these characters and the show? Where's everyone going to be next year? Chuck, Blair and Nate are obviously a big story we're telling," he told
E!
Who do you think Blair will end up with?
My bets are she'll go back with Nate for a while...but once they break up, Chuck will be there to pick up the pieces!