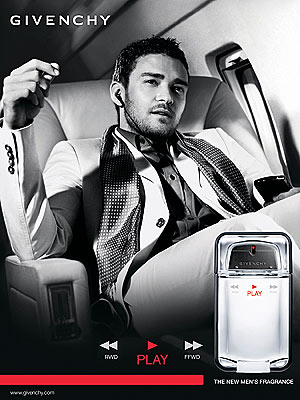 Ladies, this is the closest you'll get to transforming your boyfriend into at least smelling like
Justin Timberlake
.
As
previously reported
, the singer/William Rast designer is the face of Givenchy's newest scents for men: Play and Play Intense, with the ad campaigns hitting the September issues of magazines.
Although Timberlake prefers a person's natural smell (he feels "the greatest scents in the world are pheromones" or "the actual smell of a person's skin"), he enjoyed the process of creating the fragrance.
"I think the way we did [it] was kind of cool,"
said
the 28-year-old, "because [I got ] to pick notes. I'm not a scientist, I won't be in there doing the chemistry or mixing the chemicals, [but] I really enjoyed the process of working with Givenchy and getting involved in the actual fragrance. It means more to you. It feels more personal. I actually wear it."
And girlfriend
Jessica Biel
doesn't seem to mind the new scent on her man. "I get a lot of compliments [from her] when I wear it."
Play by Givenchy is available in stores now.