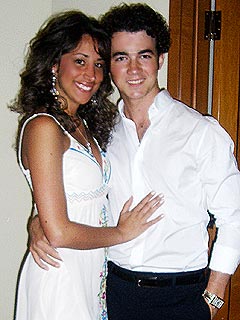 Sad news for all you
Jonas
fans.
One of the beloved brothers is ready to officially take himself off the market...until death do him part.
Kevin Jonas
, the eldest of the brothers, proposed to longtime girlfriend, Danielle Deleasa, Wednesday morning.
After arriving in New Jersey on an overnight flight from a concert in Vancouver, the 21-year-old showed up at his girlfriend's doorstop, dropped down to his knee and asked her to marry him, presenting her with a self-designed ring from Jacob & Co (pictured above).
"She said yes, yes, yes like 500 times super fast in a row," Kevin told
People
magazine. "It was tough performing last night, knowing that I was going to ask the biggest question in my life to the most amazing girl in the world."
His parents, Denise and Kevin Jonas Sr. said, "Our hearts are filled with joy today and we are happy to share with you that our son Kevin has asked Danielle for her hand in marriage. Her answer was yes, and it is such a blessing that she will be joining our family. Kevin and Danielle have not yet set a date. Family is very dear to us, and we hope we have raised Kevin to be a wonderful man and husband. Please join us in our family's celebration and in congratulating Kevin and Danielle. Thank you for all of your support."
Younger brothers Joe and Nick tweeted, "Congrats big brother.....Dani welcome to the family, we can't wait to have you join us on the road!"
Congrats to the happy couple!
And...click
here
to follow
The Chic Spot
on Twitter!